Mission
We have recently helped launch a local Boston chapter, in partnership with Families with Children from China, that aims to create community for adult Chinese adoptees in the greater Boston area, to connect with other local adoptee and AAPI communities, and educate allies on issues of transracial and transnational adoption. We hope to achieve these goals through social events, informal film screenings, workshops, and educational forums.
If you are an adoptee who would like more information about this, please email us at chinachildreninternational@gmail.com or apply to join our Facebook Group here. You may also sign up for our Boston CCI E-mailing list to get notices about upcoming events to your email inbox.
Hi everyone, the September meet-up is here!

We will be getting dinner/dessert at Time Out Market in Fenway. Time Out Market opened in Boston last June and offers 15 different eateries to choose from (https://www.timeoutmarket.com/boston/).

Who: Chinese adoptees over the age of 18. We love our parents, but Chinese adoptees only, please.
What: Dinner/dessert
When: Saturday, September 21 from 7-9pm
Where: Time Out Market (401 Park Dr, Boston, MA 02215)
How: Hop on the outbound Green line D train to Riverside and get off at Fenway station.

**Please note that participants will be responsible for their own food costs. Costs will probably be around $20 per meal.**

Email chinachildreninternational@gmail.com with any questions. Point person is Charlotte (617-959-1409).
CCI / FCCNE Boston's Chinese New Year Celebration February 2019
Read more about past CCI Boston events here.
Help us spread the word
Do you know any Chinese adoptees who live or are often in Boston and who might be interested in joining our community? Pass the word along! You can also put up this flyer that we have created to help reach out to our community.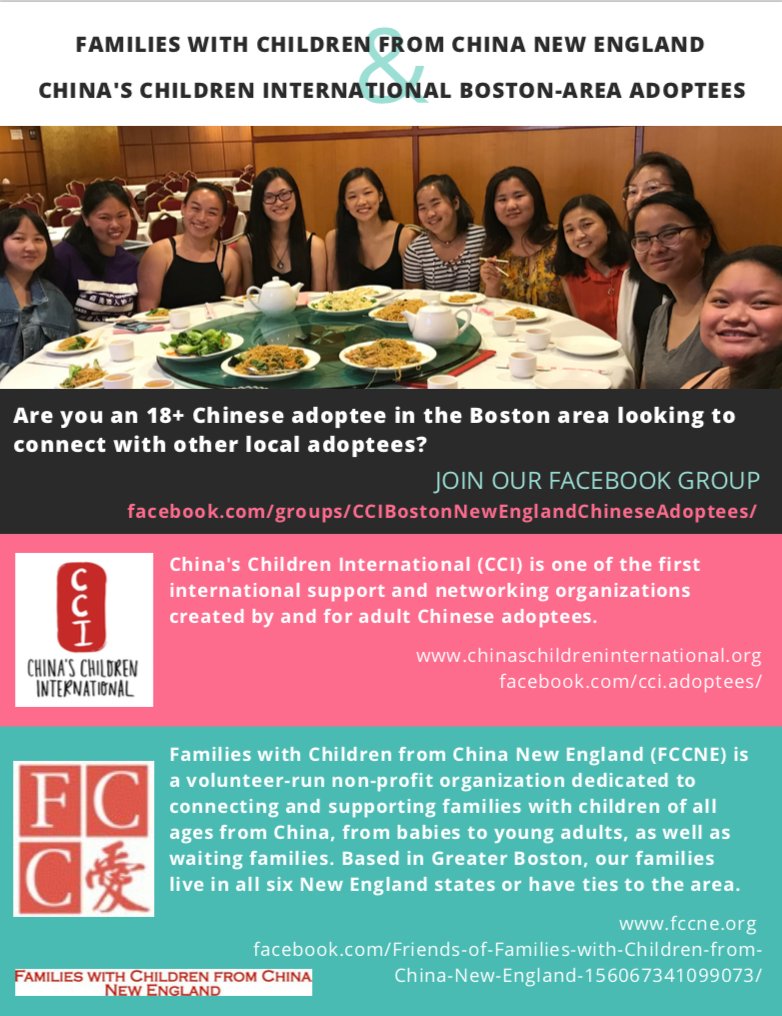 Thank you for being an active member of the Chinese adoptee community. <3