Mission
We have recently helped launch a local Boston chapter, in partnership with Families with Children from China, that aims to create community for adult Chinese adoptees in the greater Boston area, to connect with other local adoptee and AAPI communities, and educate allies on issues of transracial and transnational adoption. We hope to achieve these goals through social events, informal film screenings, workshops, and educational forums.
If you are an adoptee who would like more information about this, please email us at chinachildreninternational@gmail.com or apply to join our Facebook Group here. You may also sign up for our Boston CCI E-mailing list to get notices about upcoming events to your email inbox.
August 2019 Board Game Café
Get your gaming caps on, because we're going to the Board Game Café!
It has to be Miss Scarlet in the dining room with the revolver! Get ready to put on your gaming caps, because this August, we're taking our CCI / FCCNE meet-up for Boston-area Chinese adoptees to Knight Moves, the board game café in Coolidge Corner!

Knight Moves is an independently operated board game café located a convenient five minute walk from the Coolidge Corner T stop on the Green Line (C to Cleveland Circle). For a flat $10 fee, you can stay as many hours as you like in this cozy little café, sipping coffee and playing an unlimited number of games. The café supplies hundreds of board games for your perusal, including both favorites for the casual board gamer and lesser known gems celebrated by the board gaming community.

We'll be here for about two hours, but feel free to drop in for as long as you can. We advise, however, dropping in more towards the beginning, so that you do not come in the middle of the game - then it is harder to integrate you into the game and get you oriented!

Bring some suggestions for favorites if you have any! Also, you do NOT have to know how to play any of the games to come!

Where: Knight Moves, Coolidge Corner (1402 Beacon St, Brookline, MA 02446)
When: Sunday, August 18th, 2019 from 2PM - 4PM (or longer if you want to stay…)
Who: Chinese adoptees ages 18+ (No parents, please!)
What: Playing board games
How: Take the Green Line (C to Cleveland Circle) to Coolidge Corner. Knight Moves is a 5 minute walk from the station.
Why: Because it is fun!

**Fees: The flat fee is $10, but if this poses a hardship for you, please let me (Charlotte) know. No one will be turned away for inability to pay.
CCI / FCCNE Boston's Chinese New Year Celebration February 2019
Read more about past CCI Boston events here.
Help us spread the word
Do you know any Chinese adoptees who live or are often in Boston and who might be interested in joining our community? Pass the word along! You can also put up this flyer that we have created to help reach out to our community.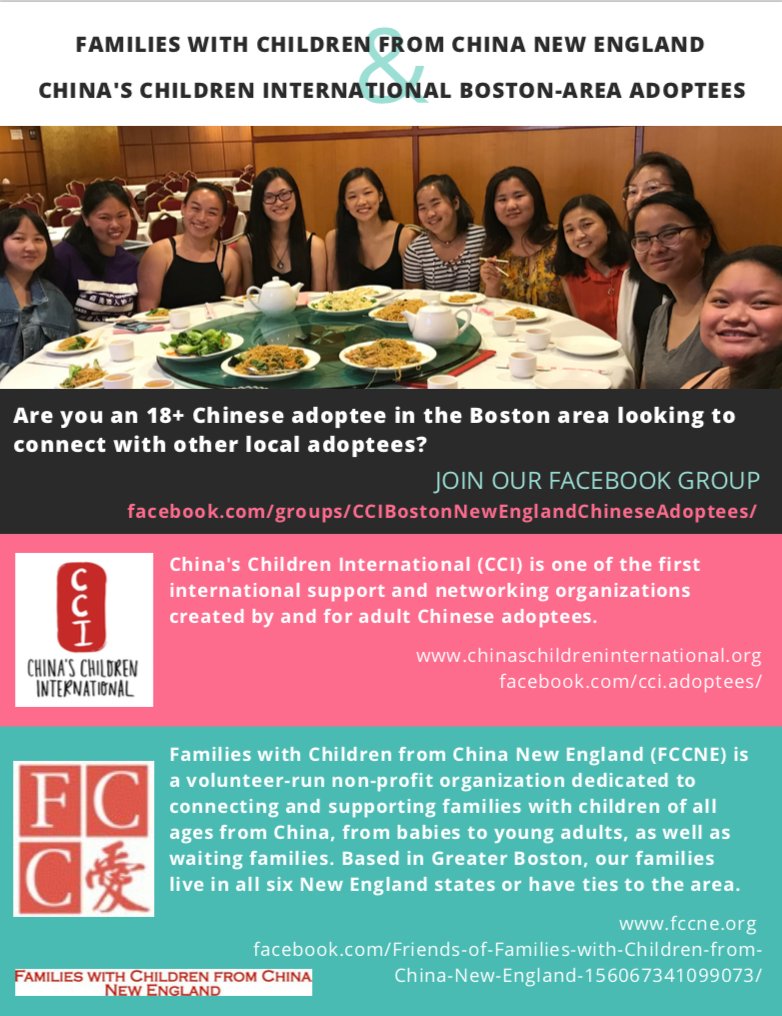 Thank you for being an active member of the Chinese adoptee community. <3