Bringing Back CCI's Birth Parent Search Resources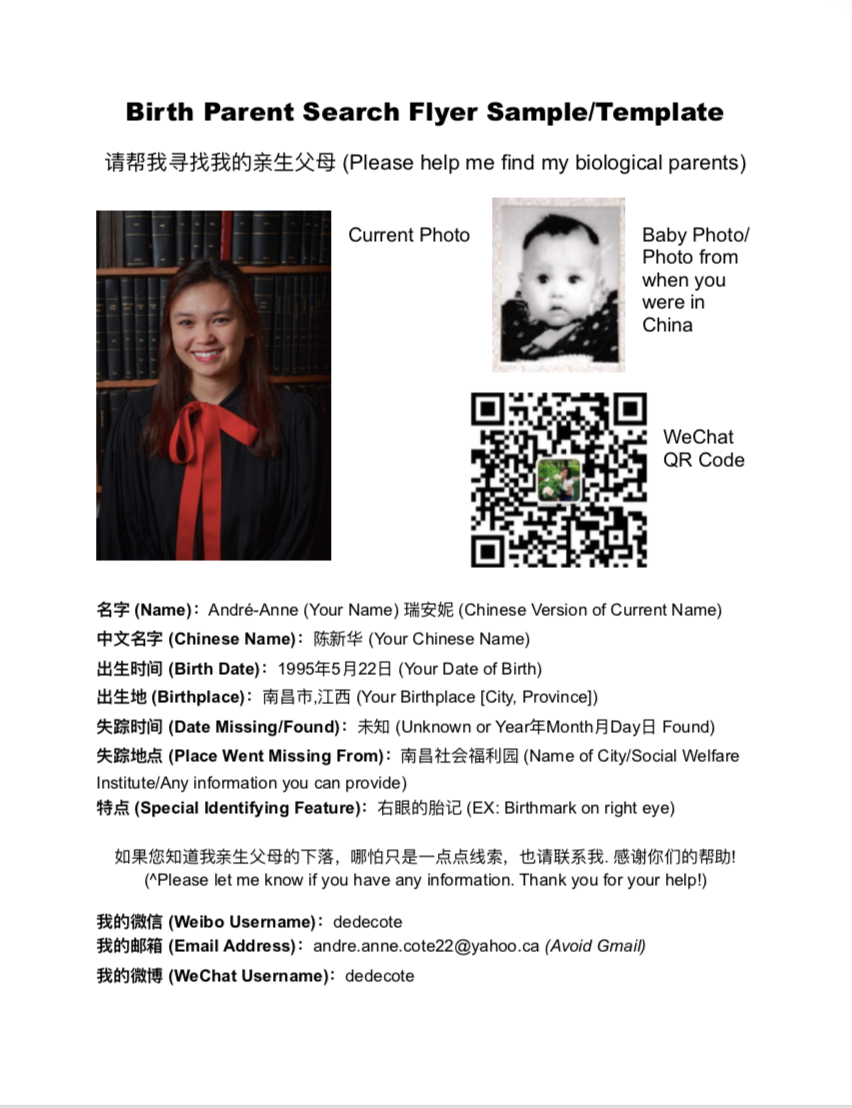 Check out CCI's newest Birth Parent Resource HERE, our Birth Parent Search Example Flyer. This can serve as a template and model for those who are hoping to create a searching poster. Credit to our Birth Parent Search Resource Coordinators, Claire Epstein and André-Anne Côté.
Hello, CCI adoptees and adoptive parents/guardians!
My name is Claire Epstein, André-Anne Côté and I are on the CCI Committee as Birth Parent Search Resources Coordinators.
Learn about the Genesis of the Birth Parent Search Resources Manual Here
We have seen many questions going around in both the Main and Adoptee-Only Facebook groups regarding how to go about the birth parent search process. We are starting a Birth Parent Search Resource Guide in the hopes of consolidating much of this information along with specific adoptee experiences. While the existing Birth Parent Search Manual from a couple years ago (found on the CCI website) provides general advice for those interested in searching, the goal of this guide is to provide insight about the before, during, and after of the search process. Such information will include 1) Why an adoptee feels inclined to search, 2) A variety of ways to go about starting the search, 3) Where to set expectations, and 4) Stories from adoptees who are currently searching/have found their birth parent(s)/biological family.
To do this, we need your help! :) We are looking for Chinese adoptees or adoptive parents/guardians searching on behalf of their child who have experience in birth parent searching to either participate in a ~30 minute-1 hour online video interview or fill out a written questionnaire. We are hoping to compile the responses of these interviews and questionnaires to create this new resource guide.
Project Aim:
Create an open-access comprehensive guide regarding how to search for Chinese biological family (e.g. how to create a flyer, post on social media, etc.) that will be publicly available online.

Provide insight about the search process through a compilation of adoptee stories.
Organizer:
This project is held by China's Children International (hereon CCI), an international support and networking organization created by and for Chinese adoptees. The directors of this project are the CCI Birth Parent Search Resource Coordinators, Claire Epstein and André-Anne Côte.
Participation:
In order to create our open access guide, we are conducting and gathering interviews with Chinese adoptees to share personal testimonies of search experiences. We are primarily looking for Chinese adoptees who have experience with / are currently in the process of searching for their biological parents and Chinese adoptees who have located their biological parents.
Those interested in contributing will be given the choice of responding to an online set of interview questions in the form of a text document or participating in an online interview with Claire Epstein, André-Anne Côte, or Charlotte Cotter. English, French, and Chinese speakers are welcome. The online interview would last thirty minutes to an hour. The platform over which it will be conducted is flexible.
Outcome:
We will compile the interview responses into a comprehensive, open-access guide that will be available on CCI's website. Inclusion of individual responses will be based on privacy and consent terms that will be provided at the time of expressed interest.
Deadline:
Deadline for our first round of interviewing will be in early December 2018. The projected timeline for release of the first iteration of the guide is January / February 2019.
Get Involved:
Please fill out and submit the following Google Form to participate in an interview/respond to a questionnaire that will be used for the resource guide:
https://docs.google.com/forms/d/e/1FAIpQLSf93pY_5KGzGEGS4VdJWFqusZIBmWNYeVjVw7cLUpUF4AqTOQ/viewform
Questions?
Email ChinaChildrenInternational@gmail.com
Email ClaireEpsteiNN@gmail.com
Message Claire Epstein's personal Facebook (ClaireAudreye)